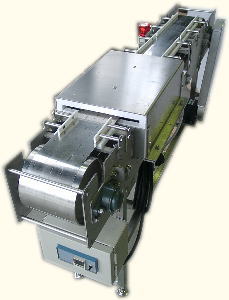 We recommend this Handy type conveyor with a thin steel belt for applications in which problems have arisen with rubber, resin, or plastic belts due to heat, acid, or sanitary concerns, or when large steel belts conveyors cannot be used due to space limitations. Because the NISCON uses a stainless steel belt with a hard, smooth surface, scraping is easy even with soft, viscous materials. These types of viscous materials tend to get stuck in the joints of plastic belts on plastic modules or cause rubber belts to peel off, but these problems can be avoided with stainless steel belts, so there is no fear of foreign matter getting mixed in with the product. The main components of the NISCON are made from stainless steel and resin, so the unit can be cleaned with water to ensure sanitary conditions at all times. It is light and compact and has casters so that it can be moved easily, even by one person.

Earlier models had a rubber guide on the reverse side of the belt to prevent erratic belt movement (mistracking), but this new model uses a compact mistracking prevention unit, eliminating the need for a rubber guide, thus further increasing the unit's convenience and cleanliness. The belt can be replaced easily in its original jointless form, so this operation requires no special training.
Typical applications: Transport lines for food products or precision devices; belt cooler (with cooling tank); cooking lines (with hot plates or heaters); laboratory applications; and as an alternative to rubber belt conveyors.
| Conveyor Lengths | Conveyor Thickeness | Conveyor Width |
| --- | --- | --- |
| 500mm- | 0.3mm | 10-500mm |